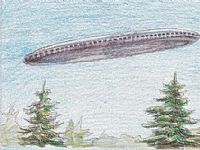 Cigar Shaped UFO spotted in California presented by Arcturi.com.

All the new reports in the Los Angeles area are going crazy over a Unidentified flying object spotted over Ontario, California, a suburb to the East of Los Angeles. Local paper the daily bulletin attracted a lot of attention when publishing the article online the next day (read it here). It seems news organizations ranging from KTLA, a popular local news channel to the Chicago Tribune got a part of the UFO frenzy airing the story to millions.

Local resident and eye witness Edgar Gonzalez states, "When news organizations report a story about Southern California residents, they immediately assume people from around here are really 'out there.' I know what I saw, and I have never seen anything like it. Period."

The reports seem to indicate the sighting of a "cigar shaped" UFO. Some attribute cigar shaped UFOs to the race of aliens referred to as Greys.